Covana Evolution Hot Tub Cover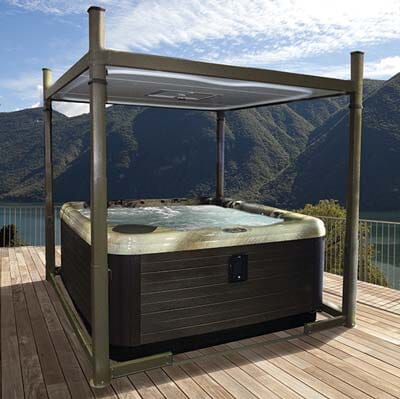 The COVANA EVOLUTION offers a wide range of solutions as it is compatible with square hot tubs from 7' to 8' and rectangular units from 8' x 9' to 8' x 11' and also for the first time, an automatic solution for round hot tubs up to 8'.
Its refined design gives the COVANA EVOLUTION a sleek and streamlined look while its adjustable size offers the greatest range of possibilities to fit larger hot tubs. We are proud to make elegance, security, and ease-of-use available to you to make your spa experience a unique one!
The lifespan of a traditional hot tub cover is typically less than three years. Sadly, landfills across the country receive over 1.2 million discarded covers annually. By investing in a Covana Evolution cover, you can feel good about making a green choice that benefits the environment as our covers will last the lifetime of your spa.
No other spa cover can provide the convenience of simply being opened with the turn of a key and at the same time prevent intruders and offer the privacy and seclusion that you desire. To enhance your well-being and maximize your spa enjoyment – no matter what size or shape of hot tub you own, choose an Evolution cover today!
See What Our Customers Have To Say
Covana Evolution Hot Tub Cover