Hoist MI5 Functional Trainer
Download This Month's Promotions and Save!
Offer ends Oct 24th
Hoist MI5 Functional Trainer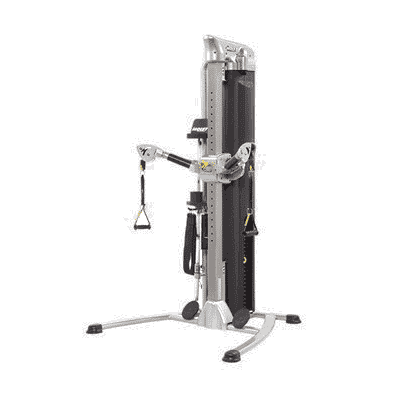 Compact and space efficient, the HOIST® Mi5 Functional Trainer is the perfect way to stay fit and get a challenging home workout. Featuring two cable arms and a 3 point cable system that allows for over 1,000 adjustments and variations. The arms can be moved vertically with 22 height adjustment options and each arm can move independently through 7 different positions at 160 angles. Suitable for users of all heights and sizes. Includes built-in accessory and tablet holder, a weight lock for suspension routines and a water bottle holder.
Features:
Fully enclosed weight stack for safety and reduced noise plate movement
Silent Steel® weight stack eliminates metal to metal contact between plates
Compact and sleek design
Counterbalanced carriage system for easy one-handed adjustments
2 adjustable pulley arms with 7 horizontal angle adjustments
22 pulley adjustment positions at 2" increments with the highest position at 77.5"
One-handed accessory connectors for quick release
Accessory rack and water bottle holder
Mobile device/tablet holder
4:1 Split Weight Cabling™ for increased cable travel (160" with strap handles)
Footrests for increased stability when performing seated and standing exercises
Includes 2 - four Square-Ring Adjustable Strap Handles
Feet will not scratch flooring
Get More Info!
See What Our Customers Have To Say
Hoist MI5 Functional Trainer