Hoist Mi6 Functional Trainer
Download This Month's Promotions and Save!
Offer ends Oct 24th
Hoist Mi6 Functional Trainer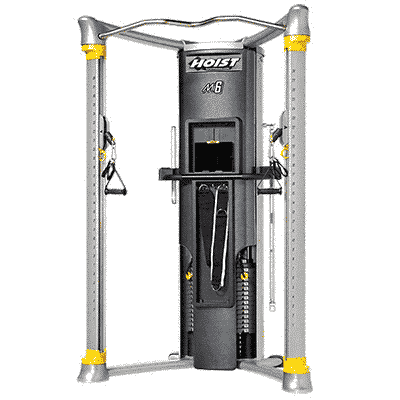 The HOIST® Mi6 is an innovative personal pulley gym known for its smooth and rhythmic motion as well as its aesthetic appeal. With a wide variety of exercise options, you'll build multiple muscle groups and maximize your results.
Adjustments are smooth and easy with an exclusive internal adjuster system and quick-release adaptors. It also features 28 pulley positions so you can train each side of your body simultaneously or separately.
With a compact, streamlined design that hides internal hardware, the Mi6 offers a sleek look and easy storage.
Equipment Features
New streamlined design hides hardware for a sleek appearance
Carbon Fiber printed shrouding
Adjustable tablet compartment
Combines pulley systems with ˚ rotating columns, Patent Pending internal adjuster system and quick-release adaptors for easy and smooth adjustments
pulley positions for independent or simultaneous training of each body side
Accessory Rack, bottle holders and towel hooks for easy storage
Radial LOC® weight system for quiet, smooth shifting between weight plates
Fully enclosed weight stacks make use easy and reduce noise
Compact design fits easily in a corner
Split Weight Cabling® allows increased cable travel
Multi-position chin-up bar with patterned grip
Get More Info!
See What Our Customers Have To Say
Hoist Mi6 Functional Trainer