Hoist Mi7 Smith Machine Training System
Download This Month's Promotions and Save!
Offer ends Oct 24th
Hoist Mi7 Smith Machine Training System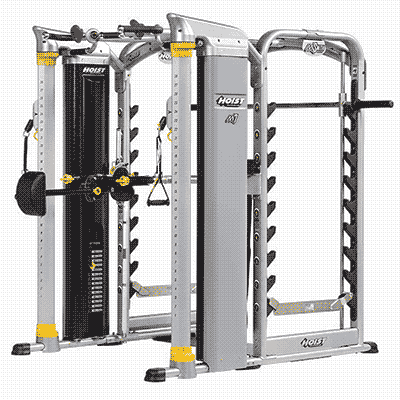 When you want an innovative home gym machine that saves space, the Mi7 Smith Machine Functional Training System provides you with a sleek, walk-through design that combines power and efficiency. Its patented technology and range of features allow you to maximize the number and type of exercises you can do. One side of the Mi7Smith, the MiSmith Dual Action, uses cuting-edge technology to offer all the benefits of training with free weights (including simultaneous movement of horizontal and vertical bars) while providing the utmost in safety and stability. When you use the opposite side of the Mi7Smith and the Mi7 Functional Training System, you'll experience 360 degree dual rotating columns of Silent Steel® weight stacks for a fully free range of motion. With five options for pull-up grips and dips, the Patented Flip n Grip® and Flip n Dip® grips allow you to do wide or narrow dips.
Equipment Features
Patented Flip n Grip® design with 5 pull-up grip choices
Patent pending Flip n Dip® engineering allows narrow and wide grip dips
Silent Steel® weight system prevents contact between metal plates and guide rods for smooth, soundless motion
Linear bearings and shafting allow guided motion without friction and a commercial quality experience
Polyurethane covered rack outs protect the bar while allowing silent racking
Protective, non-marring feet
Streamlined design hides most hardware
Space saving, compact, walk-through design
Patent-pending Integrated Adjustment System featuring 360 degree rotating columns
One-handed accessory connectors with quick release function
Sides feature 28 pulley adjustment points on each column allow individual or simultaneous use of sides
Easy storage with integrated bottle holder and accessory rack
Easily adjustable tablet and mobile device holder
Split Weight Cabling™ for 50% resistance to pulleys and further cable travel (114" when using strap handles)
Standard, upgradable 150 lbs. (68 kg) weight stacks on each side
Ultra-Lite Lifting System™ with Smith bar that weighs just 30 lbs.
Adjustable safety tiers
Get More Info!
See What Our Customers Have To Say
Hoist Mi7 Smith Machine Training System