Hoist H-2200 2 Multi-Station Gym
Download This Month's Promotions and Save!
Offer ends Oct 24th
Hoist H-2200 2 Multi-Station Gym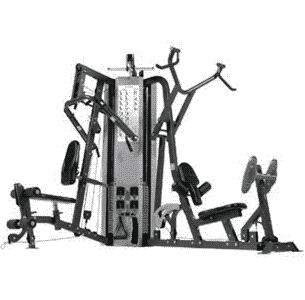 Over 30 years of offering outstanding home gym innovations, HOIST® has perfected multi-station gym systems where several people can complete the most common health club exercises.
The Hoist Multi-Stack Gym – H-2200 2 provides a wide range of health club exercises. Its "L" shaped design saves space and easily allows two users to exercise simultaneously. All body sizes can use this home gym because of its easy adjustment capabilities. The straps and exercise bars are always accessible because of a convenient attachment rack. It features a fixed pressing arm or an articulating arm.
This home gym is extremely durable because of Easy-Glide inserts that protect the metal from wear.
Equipment Features
Offers a wide range of exercises typically found in health clubs
Accommodates two users
"L" shaped design saves space and fits in a corner
Attachment rack ensures easy access of straps and exercise bars
Easy-Glide™ inserts protect metal from wear
Easy, quick adjustments for body size and stretch preference with range-of-motion feature
Fixed pressing arm or articulating arm
Get More Info!
See What Our Customers Have To Say
Hoist H-2200 2 Multi-Station Gym