Sale!
ReVmaster Sport - Lemond Spin Bike
Download This Month's Promotions and Save!
Offer ends Oct 9th
ReVmaster Sport - Lemond Spin Bike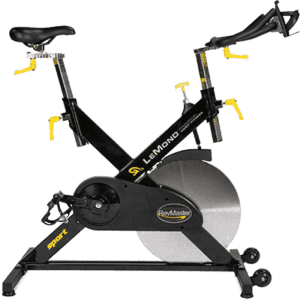 The RevMaster Sport indoor cycle was created for light commercial and home use. It combines the exceptional qualities of the classic Lemond spin bike with a traditional handlebar, which provides a smooth and quiet ride at an affordable price.
The seat and handlebars are easy to adjust and provide superior comfort while the fast activating brake system offers safety you can rely on. Service and storage are easy with its transport wheels and a Kevlar belt that requires no oiling or replacement.
The RevMaster Sport offers an outstanding workout, it's fun to ride – with easy adjustments to the seat and handlebars to make your workout comfortable and effective.
Equipment Features
Sturdy frame made with a 17 step manufacturing process
Kevlar belt for a smooth, quiet ride. Needs no replacement or oiling.
Brake pad on top of the flywheel for improved longevity
Easy adjusting resistance knob for increased or decreased intensity.
Fast activating brake system for improved safety
Micro turn adjustment for easy and safe intensity transitions
Custom BMX bottom bracket and cranks for improved force handling over conventional bikes
Easy adjusting floor levelers for uneven surfaces
Drop in mounting flywheel for high RPMs that are easy on knees
Easy service with no need for flywheel adjustments
Stable frame for fast, easy adjustment of seat, handlebar, and height
Comfortable fit for all users
Rust-resistant steel main frame
Classic handlebars for ease of access to various hand positions. (Not compatible with Lemond RevMaster Pilot.)
Micro-Adjust fit with height and fore/aft measurement ruler marks for fast adjustments and accurate fit
Anatomically designed saddle, for superior comfort and support
Numbered dual position seat slider for fore/aft fits all heights
Transport wheels
V-clamp and rotated tube design for increased stability
Handlebar-mounted water bottle holder
Get More Info!
See What Our Customers Have To Say
ReVmaster Sport – Lemond Spin Bike