Find Your Perfect Swim Spa
With so many swim spas to choose from, how do you know which one is right for you? In a few simple steps, we will show you the ideal swim spa for you!
Whether you're looking for a relaxing swim, an area for water aerobics, or an elite training facility, there is a Hydropool swim spa for you.
Designed with versatility to fit your lifestyle, a Hydropool swim spa is a compact, affordable alternative to a swimming pool. Its one-of-a-kind self-cleaning technology makes maintaining your swim spa a breeze so you have more time to spend on the things you love.
Select one of our Hydropool models or let us create a custom-built swim spa that is perfect for your needs!
The Executive Collection Models
The Executive Collection
The Executive Collection is the premiere line of swim spas offered by Aaron Pools and Spas. Built to create a smooth and powerful current, the Executive series is at the top of the swim spa class. Ideal for everyone from the beginner to the competitive swimmer, Executive Collection swim spas allow for precise current control and pre-programmed exercise routines. Once you've finished your workout, relax with a hydrotherapeutic massage in the ergonomically designed seats. Whether for fitness, relaxation or recreation, the Executive Collection will exceed your expectations.
Patened
V-Twin Jet Technology
Exclusive
VFX Variable Speed Pumps
Starting Price Range
$$$$$-$$$$$$
The AquaSport Collection Models
The AquaSport Collection
The Aquatic Collection showcases models that can act as a swimming pool, hot tub and aquatic fitness center all in one streamlined package. The adjustable, powerful and smooth current makes swimming easy and enjoyable regardless of swimming ability. The large, flat, anti-slip floor provides a foundation for a variety of other aquatic fitness exercises as well. When you've reached your physical limits, sit down in one of the ergonomically designed seats and enjoy a hydrotherapeutic massage. The Aquatic Collection provides fun, fitness and relaxation for the entire family.
Standard
Premium Led Lighting
Patened
V-Twin Jet Technology
Starting Price Range
$$$$-$$$$$$
The AquaTrainer Collection Models
The AquaTrainer Collection
If you're looking for family fun, the Play Collection of swim spas provide the ultimate setting. There's plenty of room for everyone as well as generous space for smooth, unencumbered swimming. Practice your favorite swim strokes at a pace that suits your abilities and follow it up with a hydrotherapeutic massage. If you want to mix up your fitness routine, the anti-slip floor allows for a variety of other aquatic exercises. The Play Collection features an affordable line of swim spas that are ideal for the whole family.
Optional
EZ-Pure Ozone System
See What Our Customers Have To Say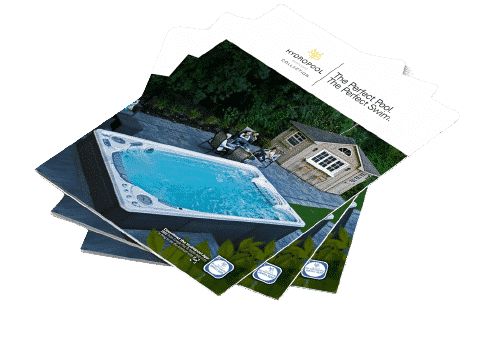 Free Hot Tub and Swim Spa Brochures
Whether you're looking to recuperate and relax or stay active and get fit we have a hot tub or swim spa that can meet your needs. Learn more about the basics of each by downloading a free hot tub or swim spa brochure. Find out how you can add a new dimension to home living.
Free Hot Tub and Swim Spa
Consumer's Guides
All our hot tubs and swim spas have been carefully curated to provide comfort, quality and value for money. Discover the ideal make and model by comparing the various sizes, features and designs. You can download a free consumer's guide to find out more.